What is a self-guided trip?
A self-guided program is an adventure "under control", where the logistics are covered by experts and YOU are the main player of your adventure, as you decide when, how and with whom you will travel.  
A self-guided tour gives you the chance to explore a destination at your own pace, on foot or by bike, while having all the necessary tools and information beforehand: the route notes, places of interest, accommodation and transport.  
The key to these tours is that they SAVE YOU TIME in preparing for your holiday, while allowing you TOTAL FREEDOM OF ACTION.
Advantages
avoid posible eventualities
save time on the preparations
take your own pace
What does a self-guided tour include?
Our self-guided tour packages include:  
accommodation
luggage transport from one hotel to the next  
detailed route notes and maps/tracks of each route 
24 hour telephone assistance in case of an emergency
If you decide to book a self-guided cycling tour, you can also rent a bike from us and we will deliver it to your first accommodation
Access to routes through the app ActiveNav, an easy and intuitive way to follow the tracks of each route on your mobile device   
At S-cape Travel our main concern is customer satisfaction and we strive to offer high quality tours and memorable experiences. 
How do we design our walking and cycling packages?
At S-cape we design our own tour packages, planning every detail from start to finish. We hike or cycle every route, in order to provide detailed route notes which are available in booklets or digital format. We select and visit each accommodation in person, checking their quality of service. 
We choose the best routes
For each destination, we choose the most spectacular routes, breath-taking landscapes which will amaze you without any unnecessary risks.
We try to avoid big crowds and follow quiet, less-frequented routes. For cycling routes we select quiet roads with little traffic. 
Our route notes cover every detail (each crossing, detour, route reference, sign, partial and total distances, location of springs, etc…) and are accompanied by the GPS track made while walking or cycling the route. A first-hand experience we can then share with the self-guided traveller.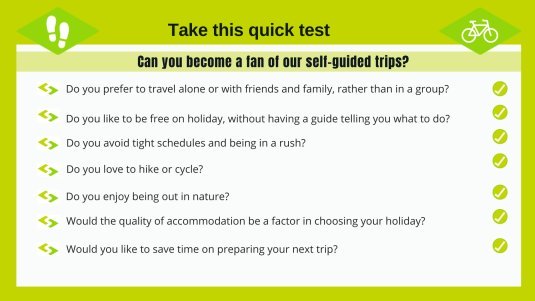 If your answer to these questions was YES ….. then welcome to the world of S-cape Travel self-guided tours!