Trip notes & Maps
We are proud of the accurancy and details of the material that we are able to deliver to all our customers.
The route descriptions
The route descriptions lead you from waypoint to waypoint (WP). A waypoint is a GPS (Global Positioning System) term for a marked spot on the earth.
The itinerary tells you what to do at each waypoint. Waypoints are also printed on the map so that, even if you aren't using a GPS receiver, you can easily find your position on the map. These waypoints are also available in digital format.
Finding your way will be easiest if you use the route description in combination with the maps provided. Always read a few lines ahead: Where is the next waypoint? How far is it to the next step on the route description?
Distances are always given in metres and kilometres. Distances are not measured in time, because e
ach person has a different walking/cycling speed.
As a general indication, we provide the estimated total walking/cycling time using a set time/distance ratio.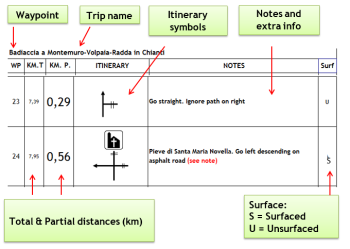 The maps
In addition to the route descriptions, you will receive a set of maps that have been created especially for this trip.
Each map has a walking/cycling route marked on it in a distinctive colour. Extensions or detours / side excursions are marked in a different colour. There is only 1 route marked on each map. This is always a dotted red or brown line. Alternate routes or shorter variants are marked in other colours.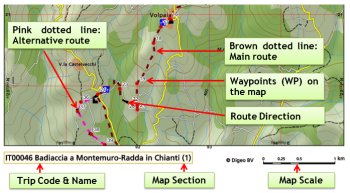 App ActiveNav

Access to routes through the app ActiveNav, an easy and intuitive way to follow the tracks of each route on your mobile device